Pressure Sensing Hand Gesture Recognition
Hand movement measurements are vital for upper extremity rehabilitation, particularly after stroke. Wearable hand gesture recognition is a promising approach as it has been shown to aid in upper extremity stroke rehabilitation. Wearables can further serve to monitor short- and long-term rehabilitation progress for acute injuries and chronic disease by providing objective patient metrics to enable therapists to optimize such rehabilitation programs. Wearable hand gesture recognition is also fundamental to enabling intelligent upper extremity prosthetics to function in real-life situations.
This project presents a new approach to wearable hand gesture recognition and finger angle estimation based on barometric pressure sensing. A wearable prototype consisting of an array of barometric pressure sensors around the wrist was developed and validated with experimental testing for three different hand gesture sets and finger flexion/extension trials for each of the five fingers. This project demonstrates that a barometric pressure wristband can be used to classify hand gestures and to estimate individual finger joint angles. This approach could serve to improve clinical treatment for upper extremity deficiencies, such as for stroke rehabilitation, by providing objective patient motor control metrics to inform and aid physicians and therapists throughout the rehabilitation process.
Barometric Pressure Sensing Wristband for Hand Gesture Recognition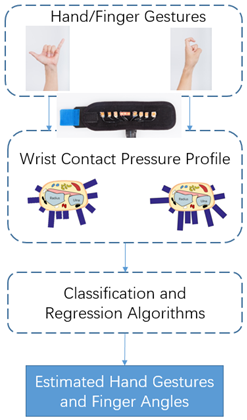 Classification Algorithm Flowchart
Three Groups of Hand Gestures for Validation Testing